MURLI KALE – Mandali and New life companion of Meher Baba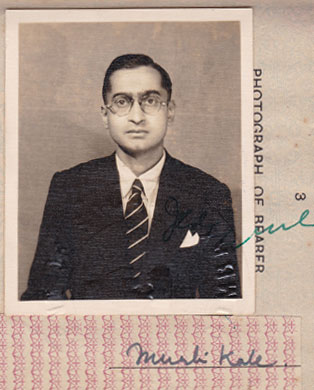 [Murli 27th July 1913 – 6th Feb 1977]
Although LM page 2403-2404 mentions Murli's age as 26 during 1944 but as per family records he was born 27th July 1913 and married at the age of 45 on 4th Feb 1958, died at 64 yrs on 6th Feb 1977.
Kalemama's son Murli was also Baba's close Mandali and a New Life Companion. He was with Meher Baba since the Prem Ashram boys days of 1927. Murli qualified himself in homeopathy and looked after the Meherabad dispensary. He later became Baba's Mandli and New Life Companion. Murli endeared Meher Baba with his consistently exemplary behavior in conforming with the conditions of the New Life. After the New Life Murli was permitted by Meher Baba through New Life Circular No: 27, to settle at Jabalpur and practice Homeopathy.

[Murli Kales passport issued 1952. Permanent address Meherabad.]
Murli Kale was Kalemama's son and was with Meher Baba since the Prem Ashram boys days of 1927. Murli and his elder brother Shreedhar were amongst the fist 10 students of the Hazrat Babajan School at Meherabad in 1927. He was also Baba's New Life Companion. Murli later became a qualified Homeopath, and attended the Homeopathic dispensary at Meherabad Ashram, as a Doctor. He gave medicines to the mandli and the poor villagers. Later Murli accepted the conditions of New Life and joined New Life. Baba highly appreciated Murli for his implicit obedience and jolly mood in adverse conditions as a Mandli and as a New Life Companion. There are many humorous stories of his jolly mood during the hardships of Ashram days, available in various books and references on Meher Baba. Murli also wanted to go to England for higher studies in Homeopathy and Baba had his passport made, which he but could not use. Later in 1951 Baba, through a New Life Circular No: 27 permitted Murli to settle at Jabalpur and practice homeopathy, and Murli came to Jabalpur in 1952. At Jabalpur he started a Meher Charitable Dispensary, and a number of new Baba lovers came to know of Baba through him, and he was always a source of joy and inspiration for the Baba lovers. He often visited Baba during the darshan programms. He married Sulbha and a son Niket was born to them. When the child was born, Murli sent a letter to Baba from the child himself, with the thumb impression of the child. Baba in His reply acknowledged that it was perhaps for the first time, He was writing a letter to a child who was not even a month old, because it if for the first time He received a letter from a child not even a month old. Murli Kale passed away on 6th Feb 1977 at the age of 64 and became one with his Beloved Meher Baba. Later Murli's son Niket married Meera, one of Meher Baba's very well known disciple Pankhraj's daughter, and they still carry the torch of Meher Baba's love …. and their two daughters Nikita and Amrita are well known amongst young Baba lovers ..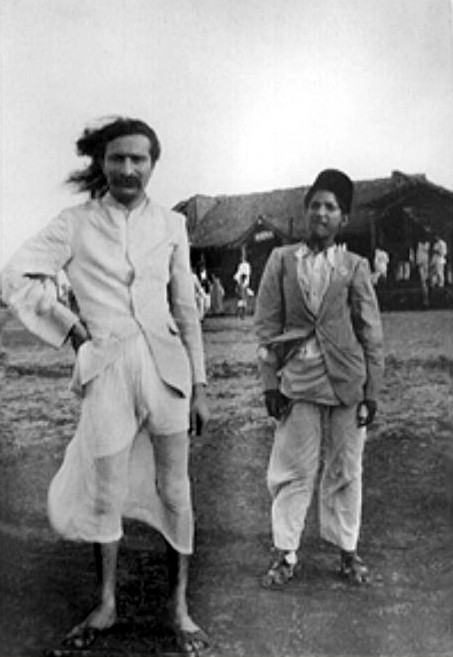 KALEMAMA
Kalemama
[Kalemama 1875 – 16 Sep 1954]
Refr: Lord Meher P:2403-2404 mentions Kalemama's age as 69 during 1944.
(Ramchandra Bapuji Kale or R. B. Kale – was commonly knows as Kalemama in Meher Baba's circle) was Meher Baba's close companion and one of the earliest Mandali, since 1926. A Civil Engineer by Profession Kalemama held a number of responsible positions in Maharastra Govt services, as Chief Executive Officer of Kolhapur Municipal Corporation, Estate Engineer and Secretary at Dhule etc. Kalemama was one of those rare disciples of Baba who also had the rare opportunity to meet Shri Sai Baba, Shri Upasni Maharaj and Shri Narayan Maharaj, a number of times. The Wedding of one of Shri Sai Baba's very well known disciple Mr. Bhate's daughter was proposed with Kalemama's elder brother Anna ji. Shri Sai Baba called the families to Shirdi, and Kalemama spent his Winter holidays at the Shirdi Ashram in 1910. Kalemama along with Mrs. Kalemama and Murli came to settle at Meherabad Ashram after accepting Meher Baba as their spiritual guide. Kalemama being a civil engineer supervised a number of construction activities at Maherabad. Mrs. Kalemama passed away at Meherabad in 1932 and Kalemama on 16 Sep,1954. During last week of Sep 1954 Sahvas programme was arranged at Meherabad and Murli desired to carry the ashes of Kalemama to his sisters place at Panchgani, but Baba refused and asked him to go straight home (Jabalpur) after taking darshan.
You can read his personal diary describing his meeting the Perfect Masters
For a brief translated English version of Kalemama's story from the original diary pages, follow the link to Bhopal Center web site above …
Kalemama, a Civil Engineer by profession was in the Maharastra State Services. He served on many important positions like Chief Executive Officer of Kolhapur Municipal Corporation, Secretary of Dhule Municipal Corporation, State Engineer at Akkalkote Sansthan etc. Kalemama met Meher Baba in 1926 at Meherabad for the first time. He soon became a close Mandali and disciple of Meher Baba. Kalemama extensively traveled with Meher Baba to many places. He also supervised the various construction work at Meherabad.
Kalemama also had the rarest opportunity to meet the living Sadguru's Shri Sai Baba of Shirdi, Sadguru Shri Upasni Maharaj of Sakori and Sadguru Shri Narayan Maharaj of Kedgaon-Bet. It was during 1939 while he was spending sometime at his daughter's place, who was married to Shri K.B.Pandit founder Principal of the well known "Sanjeevani Vidhyalaya" of Panchgani, Kalemama wrote his memoirs of his meeting with the Perfect Masters. The Rare Scanned images of Kalemama's original Diary in his own handwriting mentioning these privileged meetings with the Perfect Masters and Meher Baba are available in this section of our Web Site for general information and record.
You can read his personal diary describing his meeting the Perfect Masters
[Kalemama's diary pages are his handwritten documents describing his personal meetings with the Perfect Masters like Shri Sai Baba, Shri Narayan Maharaj and Shri Upasni Maharaj on several occasions. Kalemama also met Meher Baba in 1926 and the followed Meher Baba as his Spiritual Master and Guide and became a Mandli and later passed away at Meherabad on 16the Sepctember 1954. Please freely contact www.trustMeher.org for permission before publication of images,excerpts,extracts or translation of Kalemama's story.)

Images of Kalemama and Murli Kale with Meher Baba and Mandali