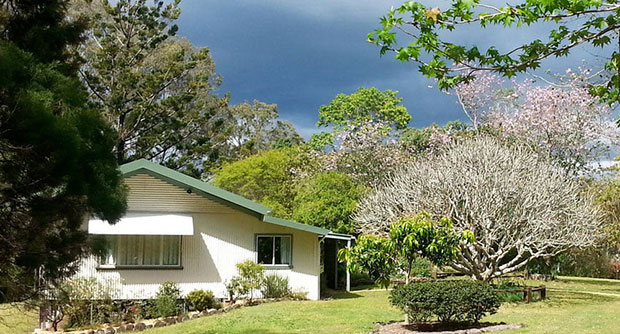 Avatar's Abode in Australia, was blessed by Meher Baba during his visit in 1958. It was dedicated as Meher Baba's spiritual home in Australia and by His wish, it can never be sold, but must be kept as a place of pilgrimage, a priceless treasure for generations to come. In June of each year, there is a special retreat which pilgrims may attend, to commemorate the anniversary of Meher Baba's visit. Day visits are also available during the year.
Avatar's Abode is situated on 99 acres of great natural beauty on virgin bushland near Woombye on Queensland's Sunshine Coast. The heart of Avatar's Abode is Baba's Room, where Baba stayed during his visits. Visitors may spend quiet times there. It is kept as a place for Baba-lovers and for those sincerely interested in knowing more about Meher Baba.
---
Where is Avatar's Abode?
Avatar's Abode lies 100 kilometres north of Brisbane in Queensland, Australia. The property occupies the summit of Keil Mountain – a hill directly east of the town of Woombye. The property lies at the end of Meher Road, off Keil Mountain Road. The district is the hinterland of Queensland's Sunshine Coast: a popular resort area, renowned for its sub-tropical rainforests, surf beaches and rolling countryside.
---
Baba's House at Avatar's Adobe
The property's heart consists of the "Baba square" – a few historic buildings used by Meher Baba. Baba's House in particular contains furniture and other relics associated with Baba's life.
People visit Baba's House and the other sites to learn more about Meher Baba or to experience the atmosphere of these special places for themselves. Thus most of the time Avatar's Abode is a place of quiet contemplation.
However, Avatar's Abode also serves as the main Australian venue for periodic gatherings marking events in the life of Meher Baba, such as the annual Anniversary of his visit, held in early June. At such times, followers and also the wider community come together to enjoy talks, films, entertainment, art, sports and meals loosely structured around themes from his life and message.
Surrounding the Baba Square are extensive bushland areas, forest walks and gardens, structures used for performances, dining, cooking and reception, and an extensive archives library. The property also provides some bunk and family (cabin) accommodation for persons interested in or committed to Meher Baba.
---
Meher Baba's Room at Avatar's Adobe (Australia)

The heart of Avatar's Abode is the beautiful timber room known as Baba's Room. It is simply furnished with items used by Meher Baba during His stay in June 1958 – a bed with pillows and bedding, two chairs, a rustic table, and floor mat. A photograph of Meher Baba is above the entry outside the room and another is above the door inside the room. Both were brought by Baba to Avatar's Abode from India and He was most particular about where and how they should be placed. On the bed is a small glass and timber case which contains a pair of Meher Baba's sandals. The room is open to pilgrims. It is here that Beloved Baba's presence is felt most strongly.
---
History of Avatar's Adobe
Meher Baba arrived and stayed three and a half days at Avatar's Abode – 3rd to 6th June 1958 This was his last trip outside of India. The gathering was part of a world-wide sahavas (period of companionship) that Meher Baba had slated for June and July of that year. It occurred during a phase of marked suffering for Meher Baba, who was still recuperating from his second car accident.
Meher Baba arrived early at the property and bestowed the name 'Avatar's Abode' whilst he was there.
Much of Meher Baba's visit was occupied with giving discourses on a variety of spiritual topics including love, longing and the spiritual planes. He met and had interviews with attendees, gave instructions, distributing special gifts and enjoyed some light entertainment.
Meher Baba also visited the tents and buildings where people were staying and cooking. A particular highlight was Meher Baba bringing home the true meaning of obedience, and asking those gathered whether they could actually do what he asked. Many remembered these sessions – which occurred in the Meeting Hall – as the most dramatic and significant aspect of the entire Sahavas.
Today, Avatar's Abode serves as the principal Australian conduit for information about Meher Baba, his message, and the movement that has emerged from him. Various people in and around the property help distribute information and literature about Meher Baba, and as the largest concentration of followers in Australia live near the property and around the Sunshine Coast, the centre is a hub for activities related to Meher Baba.
---
Contact Information:
Avatar's Abode Information
19 Meher Road Woombye, Qld 4559
Australia
Phone: 61 (07) 5442 1544
Fax: 61 (07) 5442 1700
Email: [email protected]
Website: www.avatarsabode.com.au
---
Visiting Avatar's Abode
People interested in learning more about Avatar Meher Baba and His place are welcome to visit the property during the hours of 9 am to 6 pm. There are tea and coffee making facilities available, but no food. Amenities can be found in several locations.
To arrange your day visit please telephone:
Bill Le Page (+61 7) 5442 1248 or 0448 771 007
Ros or Roy Hayes (+61 7) 5442 1544
Bernard Bruford (+61 7) 5442 1487.
---
Avatar's Abode Bookstore
A wonderful collection of books as well as some DVDs, CDs, posters and photographs etc. is available at the Bookstore.
Email: [email protected]
Phone contacts – mobiles:
John Parry 0481 333 038
Steven Hein 0412 080 424
Reg Love 0421 853 716.
---
More Information : www.avatarsabode.com.au
---