Sadguru Narayan Maharaj of Kedgaon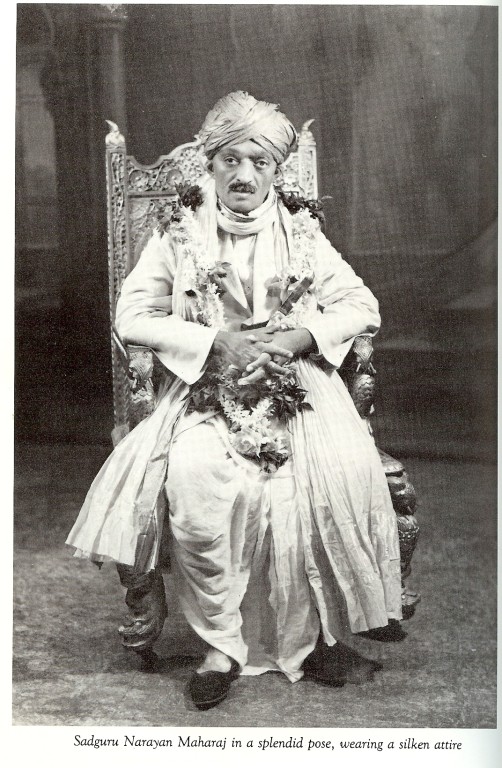 Born on 20th May 1885, at Bagalkot in Karnataka, Shri Sadguru Narayan Maharaj's early childhood was full of difficulties and calamities. He lost his parents at a very early age, and was more or less looked after by his grandmother. But the family disputes prevailed and he had to leave his house in search of the real peace.
He stayed in solitude in a Shiva temple in search of what rarely one tries and one finds. His "Bhakti" or devotion for Lord Dattatreya protected Him from several calamities. It is said that while He was staying alone in a Shiva temple for meditation, a tiger used to visit the temple without doing any harm to Maharaj.
His suffering in life advanced His implicit faith in Lord Dattatreya. There happened many other incidents in which He was saved by the divine grace of His Lord Dattatreya. Later as per the instructions of a Saint, He went to Gangapur for about 10 months, and achieved spiritual heights.
After wandering from place to place He came to Kedgaon-Bet, a place near Pune, and acquired nearly 4 hectare of land, and built a Majestic Temple of Lord Dattatrreya, a large Dharamshala for devotees, Sadhna place for Maharaj, a Shiva Temple and many cottages. This self-sufficient township distributed free food to the poor and all became engrossed in the bhakti of the Lord, and spiritual Bliss was flowing.
From 1942 onward, He was seen having frequent problems with His health and decided to go to Ottacmond for a change. Finally He came to Bangalore where He desired to perform an `Ati Rudra Swahakar' to Lord Mallikarjun.
Lavish arrangements were made by the State of Mysore for this occasion, and it was attended by nearly 100,000 people. After the Maha Pooja, He gave a mantra to the devotees present, and retired to His chamber and sat in Padmasana (The Lotus Posture) and left His physical body, on the 3rd of September 1945.
Maharaj was a wide traveler and He traveled to many places, including Varanasi, Kedarnath, Badrinath, Nepal, Omkareshwar, Mahakaleswar, Rameshwar, Madurai, Chidambaram, Shiv Kanchi, Vishnu Kanchi, Tirupathi, Ramakrishna Ashram, Calcutta, Banglore, Mysore, Dwarka, Somnath, Dakornath, Shri Gokarna Mahabaleshwar and Nagpur, and Kampti.
Meher Baba referred to Narayan Maharaj as a Perfect Master. Here is a story of of Meher Baba's omniscience that relates to Narayan Maharaj. Prior to becoming one of Meher Baba's early disciples, a young boy named Ramchandra Pankhraj lived in Kamptee near Nagpur. Narayan Maharaj used to visit a temple at Kamptee, and on these occasions Pankhraj used to criticize Narayan Maharaj for the opulence of his dress and ornamentation, which included gold rings and clothing made of silk. When Pankhraj went to see Meher Baba for the first time at Ahmednagar, Meher Baba all-knowingly refused to meet Pankhraj and sent a message instead that Pankhraj should give his devotion to Narayan Maharaj who, Baba explained, was a Sadguru.
In no time Pankhraj understood the relationship between in Baba's order to him, and his former practice of criticizing Narayan Maharaj. Pankhraj begged Meher Baba for forgiveness. The status of a Sadguru as described by Meher Baba in "God Speaks" is unparalleled among men, and it is an unparalleled blunder to backbite a Sadguru.
In His famous book "God Speaks" Meher Baba explained the theory and the purpose of creation to be the Realization of the Self by the Soul. He explained fully the development of the consciousness of Soul from the world of energy to matter and then to the evolution of various forms, in three terminologies used in the three main schools of thoughts "Vedantic", "Mystic" and "Sufi". Baba explained that after the evolution is complete in human form the Soul begins the inner journey through the seven planes or the states of consciousness. The object of creation is the God Himself, wanting to know Himself.
Shri Narayan Maharaj was known throughout India for the many miracles that are associated with His life, but often said that the real miracle is changing himself. When Maharaj dropped His body the State of Mysore provided an aircraft for His body to be taken to Bet, but later it was decided to provide nearly two acres of beautiful land near a lake at Bangalore where His mortal remains are kept at a Samadhi. From 1910 to 1945 His work at Kedgaon Bet and various places has brought thousands of disciples to Him. His single message "Treat every one as God" contains the very essence of all the philosophy of this world.
Meher Baba's disciple Kalemama had the opportunity of meeting Narayan Maharaj at Kedgaon-Bet. It was supposed to be very auspicious for one to have the opportunity to worship the deity, and to wash the feet of the Statue, although for this purpose the permission of Shri Narayan Maharaj was always needed. Kalemama went to the temple and, wishing to pray at the feet of the statue, requested Shri Narayan Maharaj to kindly permit him to perform the worship. Shri Narayan Maharaj asked Kalemama if he was a brahmin, to which Kalemama replied in positive and told his `gotra' and `pravar'. On satisfying the Sadguru's queries Kalemama was permitted by Shri Narayan Maharaj to wash the feet of the deity. He further stayed at the Kedgaon ashram for one day.Click here to read the original pages of Kalemama's diary.
The Samadhi of Sadguru Shri Narayan Maharaj is at Bangalore at the following address / location which you may like to visit to take the Darshan :
Shri Kshetra Kedgaon Bet Address
Shri Narayan Maharaj Datta Sansthan Trust, Bet Kedgaon
Taluka Daund, Disrict – PUNE [Maharastra] India PIN CODE – 412203
Mobile: 07588955040 and 07588955041
[The place is 55 kms from Pune on Pune Solapur Highway.]
---
Sri Bet Narayan Maharaj ashram and Brindavan
No 70, Gavi Gangadhareshwara circle
Gavipura, Kempe Gowda Nagar
Bangalore – 19 (Karnataka) India
(It is opposite to Gavigangadhareshwara Cave Temple (1 kms from Bull temple) and near a Lake called Kempambudhi Tank.)
A Sadguru is one with God. He is the immense ocean of infinite bliss, yet he becomes Man just for you and me. A translation of Rumi's poem which we read somewhere tells the story of real Oneness :
Late, by myself, in the boat of myself,
no light and no land anywhere,
cloud cover thick. I try to stay,
just above the surface, yet I'm already under
and living within the ocean.
– Rumi-

[Visit this link For more photos of Shri Narayan Maharaj
---
TAGS: SADGURU SHRI NARAYAN MAHARAJ OF KEDGAON BET – PERFECT MASTER OF MEHER BABA | NARAYAN MAHARAJ |