Meher Baba places in Pune (Scroll below for details)
(1) Sasoon Hospital (Birthplace)
(2) Meher Baba House (Childhood)
(3) Hazrat Babajan Tomb (Baba's Sadguru)
(4) Guruprasad Bunglow (Darshan Programmes etc.)
(5) The present day Guruprasad Memorial
(6) Avatar Meher Baba Pune Center (Center Hall and Baba's room)
(7) Avatar Meher Baba 1956 Car accident place at Udtare near Pune
---
(1) SASOON HOSPITAL MEMORIAL
Meher Baba was born in ward no. 33 (maternity ward), on ground floor, opposite mortuary, at Sasoon hospital on 25th February 1894. Later on a marble plaque was placed on the wall of this ward on which the following words were inscribed, "In this ward, the deliverer of the world was delivered to the world on 25-02-1894". Later in 2009 the entire building, including the ward was demolished to make way for a multistoried hospital building in its place. The old ground floor will now be a parking lot. Honoring the sentiments of Baba lovers, the Government of Maharashtra has allotted equivalent space on the same spot, on the first floor where a Baba memorial will now be built and on the ground floor parking lot, where the plaque will now be relocated.
[More info on Pune Center website]
(2) Meher Baba's family house – off Dastur Meher Road Pune
Purchased in 1919 by Sheriarji, Baba's father. Meher Baba spent his early life here. After being kissed by Babajan, he was made conscious of his divinity and underwent lot of agonizing experiences, because he was getting spiritual experiences of the subtle and mental worlds, yet maintaining the gross body.
The pain, at times would be so unbearable that Merwan would bang his head on the stone in one of the rooms, so powerfully that his forehead would start bleeding. He would cover his wounds on the forehead with a cloth. So that nobody would know. This stone is preserved and can still be seen in the room even today.
Down an alley off Dastur Meher Road is the home where Meher Baba and His family lived from 1918 on. The address is 765 Dastur Meher Road, and the alley is located to the left of Fatima General Stores and across from Ahuramazda Cycle Stores. Inside is a room (known as Baba's room) where Meher Baba kept Himself secluded after being unveiled by Hazrat Babajan. The room contains a number of personal items associated with Meher Baba's life. Baba's house is a private family residence, but Baba followers are welcome to visit Baba's room between 11:00 am to 12.30 pm only.
Meher Baba House, Dastur Meher Road, Camp, Behind Jal Dorabjee's Restaurant. Pune (India)
Visiting hours : (CLOSED RIGHT NOW FOR VISITORS DUE TO MAINTENANCE) Tel: +91-020-26130115
[Other Landmarks : left of Fatima General Stores and across from Ahuramazda Cycle Stores
---
(3) Hazrat Babajan Tomb
[Hazrat Babajan's Tomb / Dargah is in Camp Area of Pune, Hazrat Babajaan Square [Chowk], Near St. Vincent High School, Near Shivaji Market, Meher Dastur Road, Camp – Pune Pin Code -414001]
Hazrat Babajan, a Pashtun Muslim saint considered by her followers to be a Sadguru or Qutub, born in Balochistan, Afghanistan, lived the final 25 years of her life in Pune, India. She is most notable as the original spiritual master of Meher Baba
[For more info on Babajan click here]
---
(4) GURUPRASAD BUNGLOW [24 Bund Gardens Road – Pune] Now Demolished.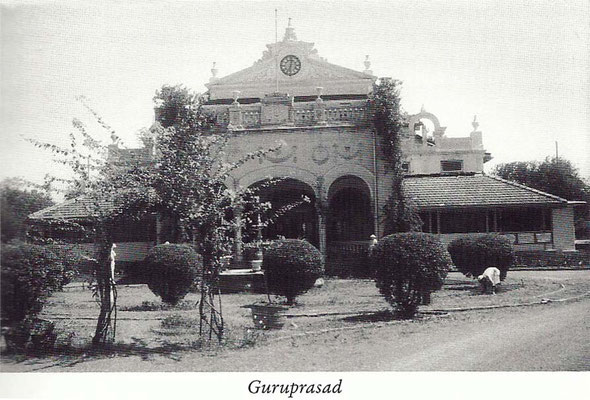 Guruprasad, the palace of the Maharani of Baroda, was where Meher Baba often spent the summer months during the 1960s. It was the site of many darshan programs, including the 1962 East-West Gathering and the 1969 Darshan. The palace no longer stands, but a small Memorial Building has been constructed on the property, using original materials from Meher Baba's bedroom. It also contains a chair on which Meher Baba sat and gave darshan.
The sprawling Guruprasad Palace which belonged to the Maharani of Baroda, Shantadevi Gaekwad, was secured for the stay of Meher Baba and his men and women companions in the New Life in March 1951. The palace originally belonged to the royal family of Jamkhandi from which it was purchased by Maharani Shantadevi. It occupied an area of several acres starting from the main Bund Garden Road and extending to Mutha River. The two storied palace had a big central hall of 500 seating capacity with large bed rooms on either of its sides and a large dining area behind. There were more bedrooms on the first floor. A huge porch in the front overlooked a beautiful garden at the centre of which was a circular fountain. There was a sprawling open space on the back side.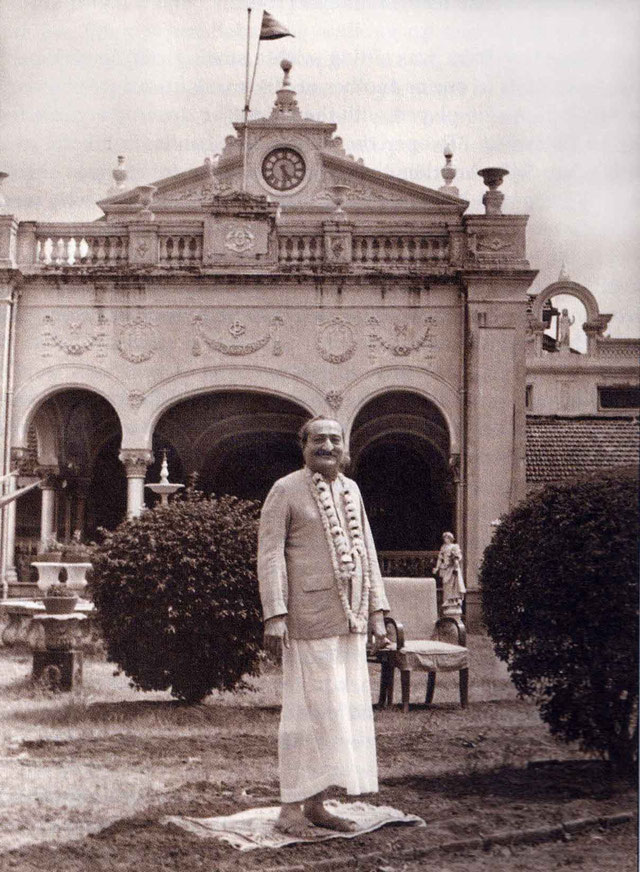 From 1951 to 1968 musicians, and the Pune Bhajan Mandali entertained Baba by their performances here. Guruprasad was also the venue of the 1962 East – West Gathering attended by thousands of Baba Lovers from all over the world. Maharani Shantadevi Gaekwad herself became a devoted Baba lover. Baba had declared in 1968, that he would give public darshan in Guruprasad in April 1969 while "lying down". Nobody could comprehend the meaning of this word at that time. Although Meher Baba dropped his body on 31st January 1969, still the public darshan programme "The Great Darshan" was held at Guruprasad. People from all over the world poured to Guruprasad for this program though Baba had dropped His body. Later, the palace was sold to a builder and was demolished making way for multistoried residential complex.
---
(5) PRESENT GURUPRASAD MEMORIAL HALL PUNE
(After demolition of Old Guruprasad Bunglow)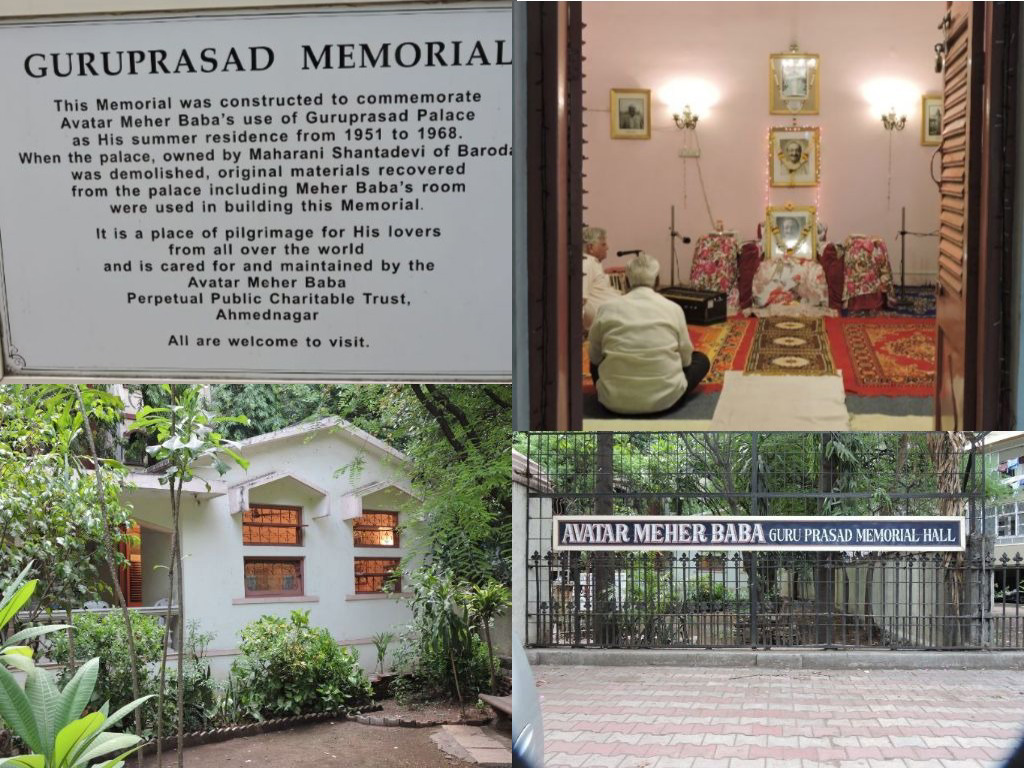 The Old Guruprasad Bunglow where Meher Baba stayed with his mandali had always been a center of Meher Baba's activities for years and several darshan programmes were held there. After Baba dropped his body the Bunglow was later demolished, and a multistory housing project was constructed. However a beautiful Hall and small garden was built during the demolition period using the same building material like doors, windows, marble pillers etc, from the old original Guruprasad Bunglow room where Baba lived, and is now dedicated as Meher Baba Guruprasad Memorial. This Memorial is a perfect visiting place for Pilgrims visiting Pune to bow down to Baba's chair and belongings like Chappals etc kept there for darshan. Memorial is open daily from 9:00 am to 7:00 pm (Wednesdays from 9:00 to 11:00 am and 5:30 to 7:00 pm) For more information and scheduled dates of gathering for bhajans, Talk etc contact Guruprasad Caretaker Mobile No: +91.9850882318
Guru Prasad Memorial Hall
24 Bund Gardens Road, Pune (India)
[Landmark: Near Tanishq show room or Opposite Zaveri Jwellers, Bund Gardens Rd.]
Open daily from 9:00 am to 7:00 pm (Wednesdays from 9:00 to 11:00 am and 5:30 to 7:00 pm)
It is recommended to call Guruprasad Memorial Caretaker's Mobile No: +91.9850882318 before visiting
---
(6) AVATAR MEHER BABA PUNE CENTER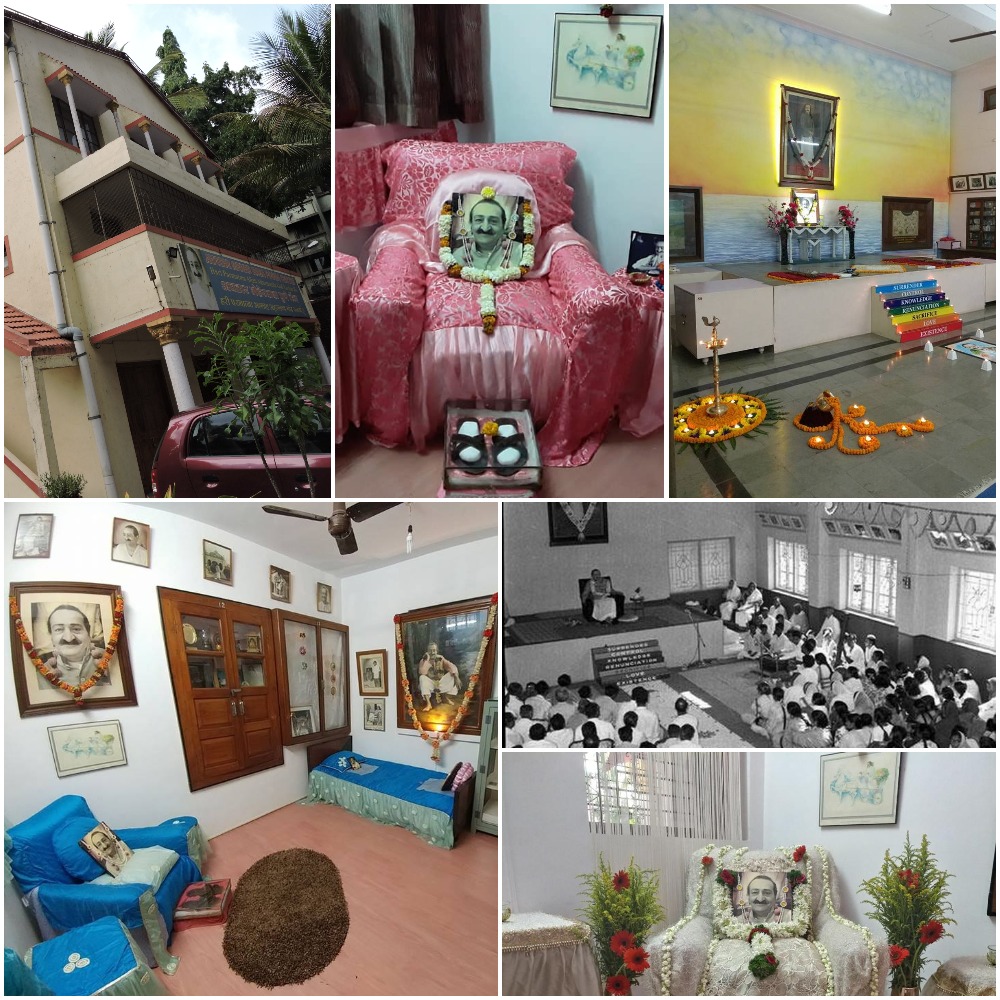 Pune group of Meher Baba followers started gathering in Gadekar's house since 1947 for meetings. Very soon a Poona Bhajan mandali was formed conducting regular activities. During this time Madhusudhan came in to Baba's contact and started composing melodious songs and bhajans which pleased Baba. As Meher Baba now often came to Pune and stayed in Guruprasad Bunglow, during this period center's meetings were first held at the Mudliar house, then Baba lovers of Pune thought of building a place for Baba's work and activities. Sardar Madhavrao Raste of Pune offered his land for the purpose, and funds were gathered and the construction of the work began in 1962. Baba sent Joshph Harb a disciple from USA to lay the foundation stone of the Center. When the Centers work was complete Meher Baba himself came for the inauguration ceremony on 1st of May 1964. During the inauguration a limited number of followers were present, hence every one requested Baba for a darshan programme. According exactly after one year on 1st of May 1965 Baba visited the center again and a darshan programme was held where thousands came for darshan and blessings.
The center is located right behind the K.E.M. Hospital, you reach here though what is a narrow lane now, from the main road. The center has a large Hall, where Meher Baba gave darshans many a times. There are a number of Publications by Pune center, also a number of books in Marathi and English are available in the Center for sale. Visitors are welcome to attend the weekly meetings on every Mondays at 7:00 pm. For obtaining copies of the Books etc, during office hours please contact Tel: 020-26067846 (India No)
The Pune or Poona center of Meher Baba has always been known for its inspiring publications, news letters and booklets on Meher Baba and his spiritual messages. In course of time they have published hundreds of such valuable resource to spread the messages and love of Avatar Meher Baba.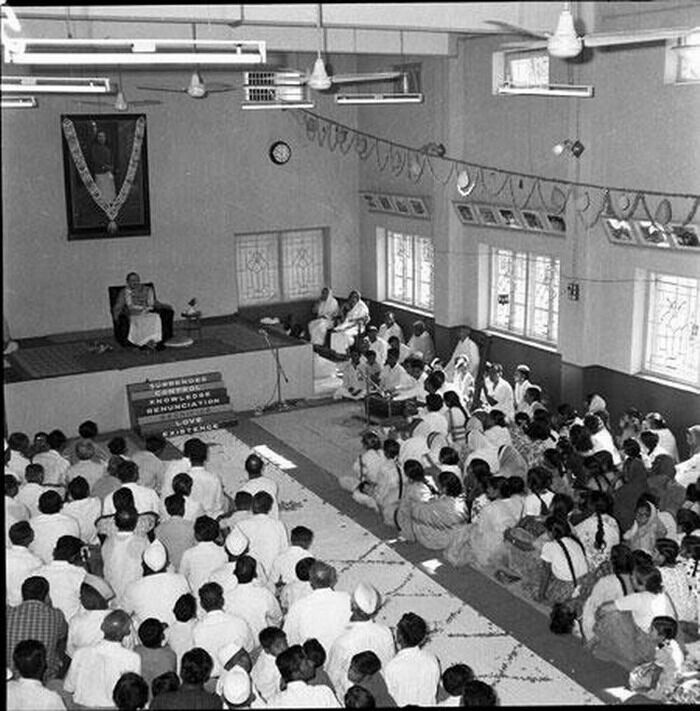 The Address of the Center is:- 441/1, Somwar Peth, Behind K.E.M. Hospital, Pune-411001. Tel: 020-26067846
---