Meher Baba Places of Pilgrimage
The places of Pilgrimage related to life of Meher Baba in India, USA and Australia.
---
---
---
Places of Pilgrimage related to Meher Baba's life and work.
---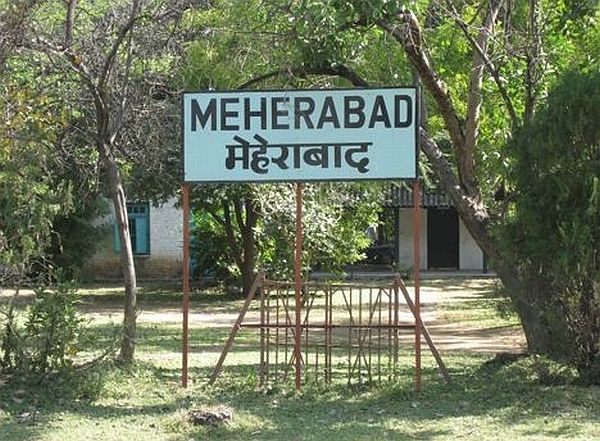 Meherabad was originally an ashram established by Meher Baba near Arangaon Village in 1923, in Maharashtra State of India (PIN Code 414006) about 5 kilometers south of Ahmednagar District. It is now the site of Meher Baba's Samadhi (tomb-shrine) as well as facilities and accommodations for pilgrims. A large number of buildings mostly associated with the earlier decades of Baba's work, the graves of disciples, and a range of pilgrim accommodation and charitable establishments are also there. Many of Baba's disciples work or live in the vicinity for management of services.
Meher Baba's Samadhi or Tomb Shrine is constructed on the Meherabad Hill. When Meher Baba dropped his body on 31st January 1969, as per his instructions, the mortal remains were kept here at Samadhi for darshan until 7th Feb 1969 when interment was done and a marble slab was placed. Thousands of pilgrims from many countries come every year for darshan, as it hosts the physical body of the Avatar. Samadhi is open from 6 a.m. till 7.45 p.m. for pilgrims, and there are other places near samadhi like museum, library and old monuments from Meher Babas life and work from his early time in Meherabad from 1925, and also places for the pilgrims to stay and take food.
Click here for details about Meherabad
---
Meherazad is Meher Baba's home and a private property with Bunglow and other adjoining constructions, around 24 kms from Meherabad. It is when the Meherabad ashram became crowded Meher Baba chose to stay in this privately owned home dedicated to him by his followers near Pimplegaon village of Ahmednagar district. More accurately, it is located at 19°11′42.41″N 74°45′08.39″E. Meherazad estate comprises about 5 acres.
Meher Baba lived at Meherazad from 1944 until his death in 1969. The complex features buildings, gardens and vehicles pertaining mostly to Baba's later phases. Of special interest are Baba's Room, Meherazad Gardens, Mandali Hall, the Blue Bus (that Baba travelled in with his women disciples in 1938-39), and the New Life Caravan. The Seclusion Hill, where Baba did much work, rises behind Meherazad.
Click here for details about Meherazad
---
PUNE – MEHER BABA'S BIRTHPLACE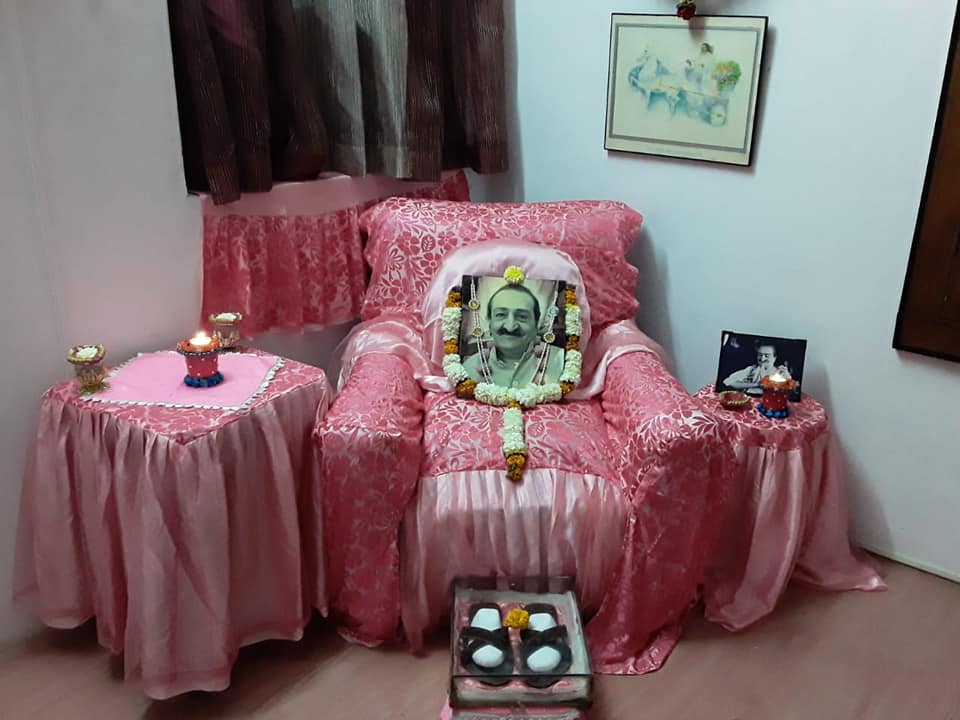 Meher Baba was born in ward no. 33 (maternity ward), on ground floor, at Sasoon hospital on 25th February 1894. He lived at his family residence Purchased in 1919 by father Sheriarji, located at 765 Dastur Meher Road, alley to the left of Fatima General Stores and across from Ahuramazda Cycle Stores. Meher Baba spent his early life here. After receiving enlightenment from Hazrat Babajan, he was made conscious of his divinity and underwent lot of agonizing experiences, because of the subtle and mental spiritual experiences. During the period of his suffering he stayed at Baba house at Pune most of the time.
The tomb-shrine of Hazrat Babajan a Pashtun Muslim Sadguru or Qutub is also situated at Hazrat Babajaan Square, Near St. Vincent High School, Near Shivaji Market, Meher Dastur Road, Camp, Pune [Pin Code -414001]
Guruprasad, the palace of the Maharani of Baroda, is also at Pune where Meher Baba. It was the site of many darshan programs, including the 1962 East-West Gathering and the 1969 Darshan. The palace no longer stands, but a small Memorial Building at 24 Bund Gardens Road, Pune is dedicated in memory and is a visitors attraction. Also the Avatar Meher Baba center of Pune is at 441/1, Somwar Peth, Behind K.E.M. Hospital, Pune-411001 which is attraction of regular meetings and activities.
Click here for details about Meher Baba places at Pune
---
Meher Spiritual Center, 10200 North Kings Highway Myrtle Beach, SC 29572 U.S.A, was established by Meher Baba in the late 40's as a spiritual retreat for rest, meditation, and renewal of the spiritual life, for those who love and follow the Guru. Meher Baba blessed the Center with his presence on three occasions in the 1950's, calling it his "home in the West." People of all faiths and backgrounds, drawn by their interest in Meher Baba, come here to feel the atmosphere of love and peace he brought to the Center and which remains today.
Click here for details about Myrtle Beach Center [USA]
---
Meher Mount consists of 170 acres of dense woodland and open fields on Sulphur Mountain in Ojai, California, about 80 miles north of Los Angeles. It is a place of great natural beauty and spiritual energy. In 1956, Avatar Meher Baba visited Southern California for three days from July 31 through August 2. The first two days were spent in Hollywood, and on the third day Meher Baba spent the full day at Meher Mount in Ojai.
Click here for details about Meher Mount Oji [USA]
---

Avatar's Abode lies 100 kilometres north of Brisbane in Queensland, Australia. The property occupies the summit of Keil Mountain – a hill directly east of the town of Woombye. The property lies at the end of Meher Road, off Keil Mountain Road. The district is the hinterland of Queensland's Sunshine Coast: a popular resort area, renowned for its sub-tropical rainforests, surf beaches and rolling countryside.
Meher Baba arrived and stayed three and a half days at Avatar's Abode – 3rd to 6th June 1958 This was his last trip outside of India. The gathering was part of a world-wide sahavas (period of companionship) that Meher Baba had slated for June and July of that year. It occurred during a phase of marked suffering for Meher Baba, who was still recuperating from his second car accident.
Click here for details about AVARATS ADOBE [AUSTRALIA]
---


TAGS: | MEHER BABA PILGRIMAGE PLACES | MEHERABAD MEHERAZAD LOWER MEHERABAD | MANDLI HALL SECLUSION HILL | BABA'S HOUSE IN PUNE |