Bhau Kalchuri Mandali of Meher Baba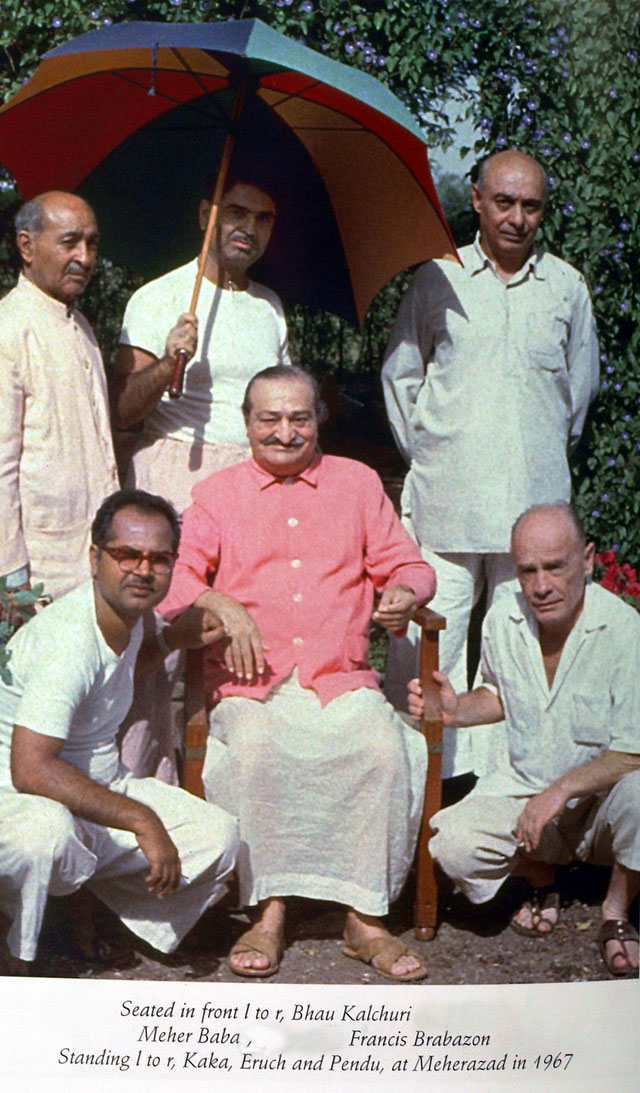 Born January 13, 1926
North India
Other names Vir Singh Kalchuri
Occupation Chairman: Avatar Meher Baba Trust
Spouse(s) Rama
Children Sheela, Mehernath
Bhau Kalchuri
Bhau Kalchuri (January 13, 1926 – ), born Vir Singh Kalchuri, is an Indian author, poet, trust administrator, and one of Meher Baba's mandali (close disciples). Bhau Kalchuri is also the principle biographer of Meher Baba's life.
Bhau Kalchuri was born one of seven children to well-to-do parents in a northern Indian village. When Bhau was ten, his father sent him to a district school for a better education, and from then on Bhau excelled in all his studies, completing master's degrees in public administration, law, and chemistry. Bhau Kalchuri was a relative latecomer to Meher Baba's circle, meeting Meher Baba in 1952 and joining him permanently in 1953 at the age of 27. He served Meher Baba in various capacities including as his night watchman. Meher Baba gave Bhau several writing assignments, many of which he completed only after Meher Baba died in 1969. In 1973 Bhau became a trustee of the Avatar Meher Baba Perpetual Public Charitable Trust. Today he is its chairman and oversees all operations at the trust office in Ahmednagar and the trust mandated developments at Meherabad, India.
Kalchuri is best known for his exhaustive biography of Meher Baba, Lord Meher (also known as Meher Prabu), a twenty volume 6,472 page chronicle based on diaries kept by Baba's followers from as early as 1922, as well as recorded interviews. He is also author of Avatar Meher Baba Manifesting and The Nothing and The Everything, a book on spiritual mechanics based on notes given to him by Meher Baba. He has also written several plays and books of verse. Bhau writes in Hindi and English.
Of all of Meher Baba's still living mandali, Bhau Kalchuri is today one of the most publicly accessible. Currently Kalchuri gives talks all around the world on the life and teachings of Avatar Meher Baba, and publishes an online periodical Awakenings. Starting in 1985, he has made extensive speaking tours both inside and outside of India, predominantly the United States, but also many trips to Europe and Australia. He has been interviewed in both press and radio.

Bhau Kalchuri – obituary Telegraph.co.uk
Bhau Kalchuri was an Indian disciple of the 'incarnation of God', Meher Baba, who captured the mute guru's life in Hindi verse
Bhau Kalchuri, who has died aged 86, was an Indian writer and poet, and the biographer and close disciple of Meher Baba (1894-1969), an Indian guru famous for, among other things, not uttering a word during the last 44 years of his life.
Meher Baba, also known as "The Compassionate One", claimed to be the Avatar — the most recent incarnation of God, following in the footsteps of such figures as Zoroaster, Buddha, Jesus and Mohammed.
Attaching no importance to "creed, dogma, caste systems or religious ceremonies and rites", he boiled down his teaching into a list of "realities" that included love of God, self-sacrifice, respect for others, self-discipline and calm in adversity. He taught that true self-realisation comes about over millions of reincarnations — a process he called "involution". For the last silent 44 years of his life, he communicated with an alphabet board and eventually only with hand gestures.
Baba's teachings caught on in the West, where he became something of a celebrity. In the 1930s he travelled to America and hobnobbed with Hollywood stars such as Gary Cooper, Charles Laughton, Tallulah Bankhead, Boris Karloff, Mary Pickford and Douglas Fairbanks junior He also travelled to Britain on the same ship as Mahatma Gandhi. The pair were reported to have had several meetings at which (according to his followers) Baba advised Gandhi to abandon politics, provoking a sharp response from an aide to the Mahatma: "You may say emphatically that Gandhi never asked Meher Baba for help or for spiritual or other advice."
In the 1950s Baba established a spiritual centre in South Carolina, and in the 1960s was one of several Indian gurus whose teachings caught on with hippies and pop stars of the era. He provided the inspiration for Pete Townshend's pop opera character Tommy — the deaf, dumb and blind boy who "sure played a mean pinball" — while his slogan, "Don't Worry, Be Happy'' inspired a notably irritating song by Bobby McFerrin in 1988 (it was subsequently used to savagely ironic effect in war movies).
Baba's travels enabled him to fulfil a prophecy that he would shed his blood in both East and West in his mission to bring the world together. His "Cross" was the motor car: he was injured in two road accidents, one in the United States in 1952, the other in India in 1956.
In the jargon of his followers, Baba "dropped his body" in 1969. For the last 16 years of his life Kalchuri had been one of his closest disciples (or mandala), serving as his nightwatchman, secretary and translator. Among other things, Baba encouraged "Bhau" ("Brother" in Hindi) Kalchuri to write songs, poetry and Hindi forms of Persian ghazals (love poems to God). Before he died Baba also asked him to write his biography — also in Hindi verse, tapping out the metre he wanted him to employ.
Kalchuri prepared the ground by writing a prose version in English — a massive 6,472-page chronicle in 20 volumes, finishing the work in eight months in 1971, writing 18 hours a day. His physical endurance was extraordinary: food and the call of nature were secondary to his work for his master.
Vir Singh Kalchuri was born on January 13 1927 into a prosperous Rajput family in Katangi, Madhya Pradesh. After a degree in public administration, law and science at Nagpur University, he took graduate studies.
In 1952, however, the course of his life was changed by a chance meeting with Meher Baba at a public gathering. "From a distance, I saw him. He was so radiant, so glorious," Kalchuri recalled. When Kalchuri pleaded to become his disciple, Baba asked: "Will you obey my instructions? If I ask you to become naked and go begging, will you?" Kalchuri assented and began to undress, but Baba stopped him. In 1953, after completing his studies, Kalchuri became, at 27, the youngest resident mandala of Meher Baba's ashram.
After Baba's death, Kalchuri devoted himself to keeping his flame alive, publishing several more books, serving as chairman of the Avatar Meher Baba Trust in India and travelling round the world to spread his teachings. He was meticulous in answering every card, letter or email sent to him, and held weekly sessions on Skype.
"God alone exists," he proclaimed. "Whatever we see existing, exists in non-existence."
Bhau Kalchuri, born January 13 1927, died October 23 2013
[Telegraph.co.uk : 7:35PM GMT 22 Jan 2014]

Publications
English published
Meher Prabhu: Lord Meher
The Biography of the Avatar of the Age, Meher Baba. Bhau Kalchuri, Manifestation, Inc. 1986. 20-volume biography taken from numerous diaries and personal interviews conducted by Mr. Kalchuri.

Meher Baba's New Life
Avatar of the Age Meher Baba Manifesting
While the World Slept (ISBN 9780595474325)
The Nothing and the Everything
Let's Go To Meherabad (ISBN 9780940700116)
Mastery in Servitude
Meher Geetika
Meher Roshani
Meher Sarod
Ocean Waves, Volume I and II (ISBN 9781161111798)
Sun Rays

Hindi
Divya Leela (play)
Jai Meher (play)
Meher Darshan
Meher Jyoti (Flame) (songs)
Meher Leela (biography of Meher Baba up until 1965 in verse)
Prem Mahima (The Glory of Love) (play)
Vishvas (Faith) (play)
You Alone Exist (prayer)

TAGS: BHAU KALCHURI | MEHER BABA'S TRUST CHAIRMAN AMBPPCT | BIOGRAPHER OF MEHER BABA |