Eruch Jessawala Men Mandali and interpreter of Meher Baba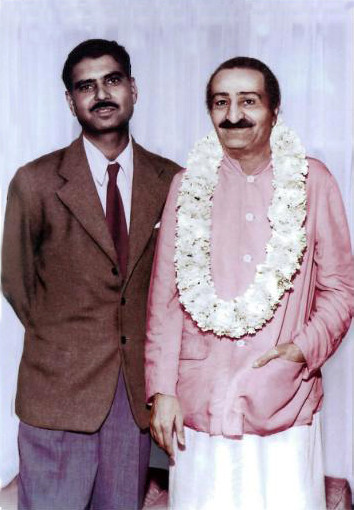 Eruch Byramshaw Jessawala
(October 13, 1916 – August 31, 2001), born in Bombay, India, was a close disciple of the silent Indian master Meher Baba, and one of his mandali. He was also the primary interpreter of Meher Baba's alphabet board, and later his unique sign language.
Early life
Eruch was born in Bombay to Zoroastrian parents, Byramshaw and Gaimai Jessawala. His father Byramshaw was an engineer, and was the Chief Inspector of Boilers for The Central Provinces, a high post in the British Indian government. The family lived in Nagpur (now part of Maharashtra State). Due to constant relocations of his father, Eruch was placed in an orthodox Zoroastrian boarding school in Nashik at the age of 6. When his father eventually bought an estate, Jessawala was transferred to a Catholic school at the age of 8 where he excelled as a student, eventually planning to study engineering like his father.
Meeting Meher Baba
According to Eruch the first time he remembered meeting Meher Baba was in 1925 at the age of 9, on a trip with his family to Ahmednagar.
He met Meher Baba in what later became Meherabad, Meher Baba's main ashram and the site of his Tomb-Shrine today. Twelve years later, while Jessawala was preparing to study engineering, Meher Baba called him to Panchgani and asked him, "Will you leave everything and come to be with me?" To this Jessawala answered, "By your grace anything is possible." Thus Eruch Jessawala joined Meher Baba as his close companion in 1938, at the age of 21.
Work as translator of Baba's silent gestures
Meher Baba was silent for 44 years, from 10 July, 1925 until His death on 31 January, 1969. Eruch Jessawala was Meher Baba's main interpreter, interpreting both His English language alphabet board and later his sign language. He also transcribed Meher Baba's major book God Speaks from Meher Baba's dictation on the alphabet board, wrote the ninth chapter of that book working from a chart by Meher Baba under Baba's direct supervision, and wrote the book's conclusion. During Meher Baba's lifetime Eruch dealt with correspondence and acted as companion and valet for Meher Baba on His many journeys in India and around the world. Eruch Jessawala's stories of his life with Meher Baba were published during his lifetime (see below).
Death and legacy
Eruch survived Meher Baba's death by 32 years, continuing to live at Meherazad and assisting Meher Baba's sister Mani Irani in her work as Chairman for the Avatar Meher Baba Trust. After her death in 1996, he continued to go to the Trust Office in Ahmednagar until his own death in 2001. He was an inspiration for followers and disciples of Meher Baba from the East and the West until the end. Eruch was well known for telling stories of Meher Baba's life, and his books are taken from those accounts.
Books
Tales from the New Life with Meher Baba, Narrated by Eruch, Mehera, Mani and Meheru, Published by Meher Baba Information, 1976
Is That So, Eruch Jessawala, Meher Nazar Books, Kings Road, Amhednagar, M.S. India. 1985
Determined to Be His, Eruch Jessawala, Meher Nazar Books, Ahmednagar, M.S. India. 1987
That's How it Was, Stories of Life with Meher Baba, Eruch Jessawala, Sheriar Press; 1995 (ISBN 1-880619-17-2)
More references on Eruch Jessawala



TAGS: | MEHER BABA'S MANDALI ERUCH JESSAWALA |