Seclusion Hill of Meher Baba at Meherazad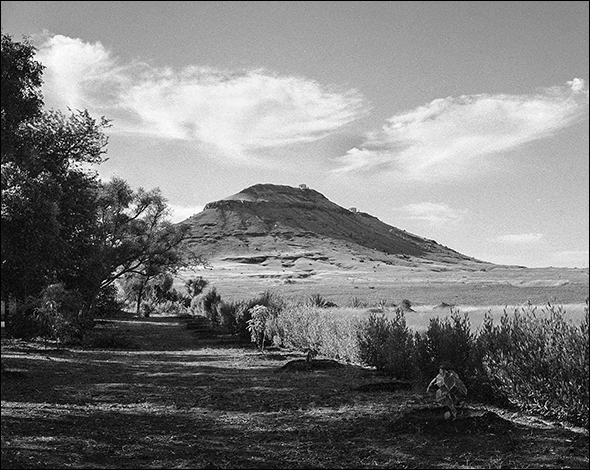 In 1944 when the women were first staying at Meherazad, they would take long walks in the evening with Baba around the northern side of the hill and its base. They were fascinated by the unusually beautiful rocks they saw and carried many of these treasures home. Some of the rocks were so big that eventually they brought the rocks back in a wheelbarrow. Most of these rocks went into the foundation of the new bungalow.
The hill was very difficult to climb and there was no easy path to the summit. When Baba decided that he wanted the cabins built on the Hill for His work, Dr. Donkin decided to cut a trail up the hillside.
---
In December of 1947, Baba called for the mast Ali Shah to be brought to Meherazad for His work. Baba wanted to work with the mast on the Hill.
Padri was told by Baba to build two small huts on the hill. The huts were made of asbestos roof and siding. Each hut measured 10′ by 12′ in size. One hut was located on the summit of the Hill, and another hut, made of the same materials and dimensions, on a slightly lower plateau for Baba's work with the mast. The mandali would stay in a small tent pitched on the lower plateau. At the very edge of the lower plateau, a natural formation of rocks served as a makeshift wood cooking stove.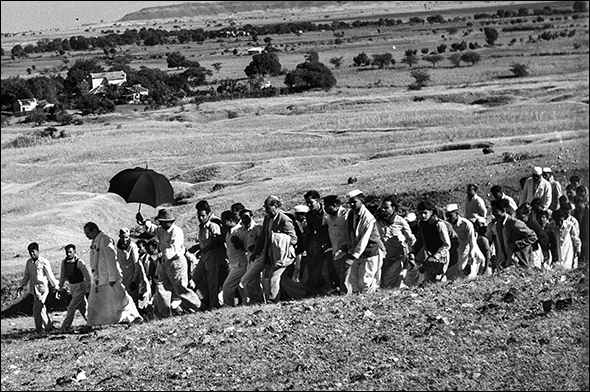 During the 1955 Sahavas programme, Baba led each of the four language groups up to the summit of Seclusion Hill. When He led each group up the Hill He told them: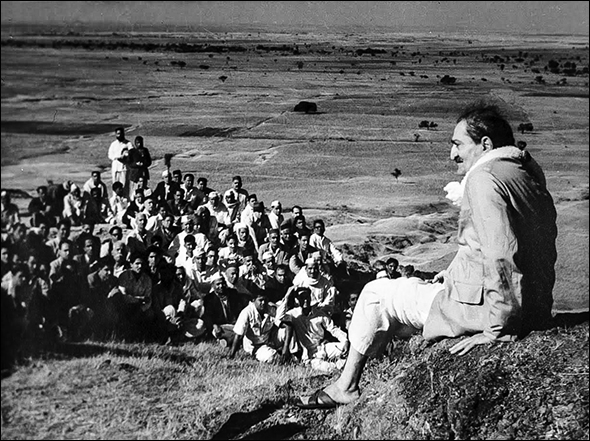 "How fortunate you all are that I am leading you up this hill in flesh and blood. Seventy years from now, people will come from all over the world to this Hill on pilgrimage. And what will they find here? Rocks!
"Pick up a stone and keep it with you in memory of this day."

SECLUSION HILL
Meher Baba
"You are all really fortunate to have come with Me on the hill, with My leading the way. That is a very dear piece of land, that hill. When I was there I fasted on only very weak tea. The hill is now barren, but a time will come when there will be much construction there by My disciples."
Baba then told us to sit quietly for five minutes, when we would have fruit juice to drink. Baba then referred again to the pictures of Himself and the locks of hair which He had entrusted to Lud, and told him again to show them to us at Meherabad and return them.
"Some of them," interjected Fred Winterfeldt.
"All of them," rejoined Baba, "and more. They will come back with your love."
While we were having fruit juice, reference was made to the various places where Baba had retired in seclusion at different times — Mount Abu, Rishikesh, Hardwar, Angarishi, Panchgani, Khuldabad and Meherabad, all were mentioned.
Then came the most moving event of the day. One of the girls appeared with a large shawl, which she carefully opened. Out of this, she drew an old patched coat, originally brown but practically covered with patches of blue and black. Baba told us that this was the most sacred of His possessions. He had worn it steadily for eight years from 1921 on. This included His period of seclusion in the "jhopdi" in 1922.
"What it has in it will be revealed after I drop the body. Then thousands and thousands of men and women will come to worship."
Next an ancient pair of sandals were produced and, following this, a white robe.
"These are the sandals and the robe that I wore when I wore that coat," Baba said. "The sandals were discarded when I first went up the hill at Meherabad."
Eruch then told us that after Baba had stopped wearing this coat, He used to change his clothes frequently and then would give them away, but these things Baba would not part with. We were also told that these things were produced today for the first time in many years. Even the Mandali had not seen them for a long time.
THREE INCREDIBLE WEEKS WITH MEHER BABA, pp. 32-34, Charles Purdom and Malcolm Schloss

More Links
Seclusion Hill
Meherazad
Meher Baba's Seclusion Hill: Poems & Photographs by Paul Smith