Begum Akhtar with Meher Baba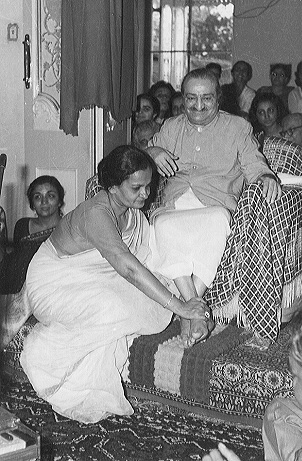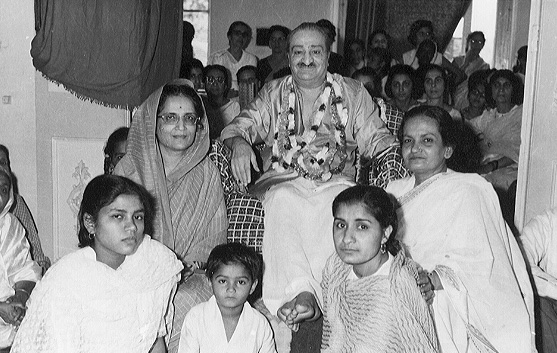 About Begum Akhtar
Akhtar Bai Faizabadi, popularly called Begum Akhtar (October 07, 1914 – October 30,1974) was a famous Indian singer of Ghazal, Dadra and Thumri. She received the Sangeet Natak Akademi Award for vocal music and was awarded Padam Shri and Padam Bhushan (Posthumously) by Government of India. She was given the title of Mallika-e-Ghazal (Queen of Ghazals). On completion of 100 years of this versatile genius, the Government of India has decided to commemorate the occasion. With this end in view, a National Implementation Committee (NIC) under the Chairmanship of Union Culture Minister was constituted to chalk out programmes and activities that may be taken up during the commemoration year.

JANUARY 13, 1963 – BEGAUM AKHTAR, THE QUEEN OF GHAZALS SINGS BEFORE BELOVED BABA
In the morning that day, (January 13, 1963) an unscheduled visitor arrived. Begum Akhtar, age forty-nine, the celebrated singer from Uttar Pradesh, suddenly came to Meherazad along with Golwalkar, the music director of the Poona All India Radio station. Baba had several of her records and she was one of his favorites. Back in 1937-38, Adi had invited Begum Akhtar to sing before Baba, and expressed his willingness to pay her round trip travelling expenses from Lucknow to Ahmednagar, and make all arrangements for her journey. But she demanded an exorbitant fee, and at the time, Baba informed Adi: "Don't call her now; one day she herself will come." And here she was, coming without an invitation.
In response to a message from Golwalkar, she was to have sung before Baba in Guruprasad the past summer, but she was unable to do so because of a serious illness at the time. Meeting Baba now, Begum Akhtar wept copiously. It seemed as if she had been in Baba's inner contact for years. She told him, "From the day I heard of your call, I
have been craving your darshan, and I sing a special ghazal before your photograph every day."
She beseeched Baba to allow her to sing it before him, to which Baba replied, "I am in seclusion now and not in the mood to listen to ghazals." Begum Akhtar pleaded, and Baba replied, "I will give my permission only on the condition that you agree to come to Poona and give a performance of four to five hours at Guruprasad on any day in April or May. If you agree, I will hear one ghazal now." She was delighted and lovingly accepted the condition. The Queen of Ghazals, as she was called, (who used to charge one thousand rupees for one song) herself came to Baba begging with a prayer to allow her to sing for him. Such is Love's wonder! Only Love can perform such marvels!
Seated before Baba and the mandali, Begum Akhtar sang her daily "prayer" to Baba. Translated, its first line was:
"O Love, my tears are the result
of surrendering to you!"
Tears of love and joy coursed down her cheeks as she sang. Baba gave her one of his own handkerchiefs with which to wipe her tears. He was so pleased with her singing that she sang three more songs. Baba remarked to her, "I am the Fakir of fakirs and the Emperor of emperors!" Begum Akhtar replied, "There can be not the least doubt in that." When Bab a mentioned what fee she would accept for the program at Guruprasad, she said, "I want nothing except your love."
Baba was pleased by her answer.
The tabla drum player, Kamat, also accompanied Begum Akhtar, as did her daughter. They brought two large garlands, one for the daughter and one for Akhtar to place around Baba's neck. But Begum Akhtar was so overcome she put both garlands around Baba! Baba assured her, "You have no idea how happy you have made me with your singing." She exclaimed, "I am so happy and fortunate to have done so." While leaving she held on to Baba's feet, and with her head on his knee wept quietly for a long time. Patting her bowed head, Baba gestured, "You are most blessed."
[Source: Lord Meher, Bhau Kalchuri, Vol. 18, pp. 6062 – 6063.]