BHAU KALCHURI, MEN MANDALI OF MEHER BABA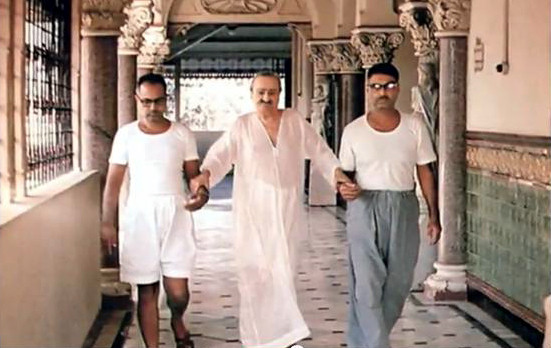 Kalchuri was born one of eight children of a well-to-do Rajput family in Katangi in the Balaghat district of Madhya Pradesh. He excelled in his studies at Nagpur University, completing master's degrees in public administration, law, and chemistry. But before he could realize his career plans, Bhau unexpectedly turned to spiritual interests following a visit to the tomb of a famous holy man, Tajuddin Baba, in Nagpur. After meeting Meher Baba in 1952, Bhau joined him permanently in 1953, at age 27 the youngest resident mandali of Meher Baba's ashram, where he served in various capacities, including night watchman and Hindi correspondent. Meher Baba taught Bhau to write a Hindi form of the Persian ghazal and also gave Bhau several other writing assignments, many of which he completed only after Meher Baba's death in 1969. In 1973 Bhau became a trustee of the Avatar Meher Baba Perpetual Public Charitable Trust.He later became its chairman, and continued in this capacity until the end of his life.
Kalchuri was best known for his exhaustive biography of Meher Baba, Lord Meher (also known as Meher Prabu), a twenty volume 6,472 page chronicle based on diaries kept by Baba's followers from as early as 1922, as well as interviews. He was also author of Avatar of the Age Meher Baba Manifesting and The Nothing and the Everything, the latter a book on spiritual mechanics based on notes given to him by Meher Baba. He also wrote several plays and books of verse. Bhau wrote in Hindi and English.
Starting in 1985, he made extensive speaking tours both inside and outside India, predominantly the United States, but also many trips to Europe and Australia. He was interviewed in both press and radio and also appeared in Roger Nygard's film The Nature of Existence.[5] Near the end of his life Bhau was less mobile, owing to poor health, although he kept in touch with the worldwide Meher Baba community via Internet chats and messages.
English published
Meher Prabhu: Lord Meher, The Biography of the Avatar of the Age, Meher Baba.
Meher Baba's New Life
Avatar of the Age Meher Baba Manifesting
While the World Slept (ISBN 9780595474325)
The Nothing and the Everything
Let's Go To Meherabad (ISBN 9780940700116)
Mastery in Servitude
Meher Geetika
Meher Roshani
Meher Sarod
Nectar for the Children (ISBN 9788190942805)
Ocean Waves, Volume I and II (ISBN 9781161111798)
The Spiritual Training Program
Sun Rays
The Awakenings of Bhau Kalchuri from Beloved Avatar Meher Baba (ISBN 9788190942812)
[Source: Wikipedia]