Madhusudhan Pund Singer and disciple of Meher Baba
Madhusudhan (Madhusudhan Shreedhar Pund) was born on 10 July 1927 at a village in Satara District. Due to certain reasons his family shifted from his village to Pune City. Soon after his migration to Pune, Madhusudhan lost his father and elder brother and the responsibility of the family fell on him and his elder brother. Shortly afterwards Madhusudhan started working in the Medical College of Pune as Laboratory Assistant and was able to support the family.
Madhusudhan was born with a pleasing personality and a beautiful voice for singing. He was a gifted poet, singer and composer of Music. In 1948 through some friends Madhusudhan came to know about Meher Baba and met Baba on 21st August 1949. He composed and sang hundreds of songs on Meher Baba which were highly appreciated by Baba. He always had the opportunity to sing in Meher Baba's presence. Madhusudhan composed many songs extempore to sing before Baba. Under Baba's instructions the first edition of Madhusudhans songs was published in 1955 by Adi K. Irani, and second edition in 1962 and third edition in 1968. Madhusudhan also wrote the Hindi Arti of Meher Baba " Divya Sanatan". One EP record of the Aarti was also published by Avatar Meher Baba Shrirangpatnam Center.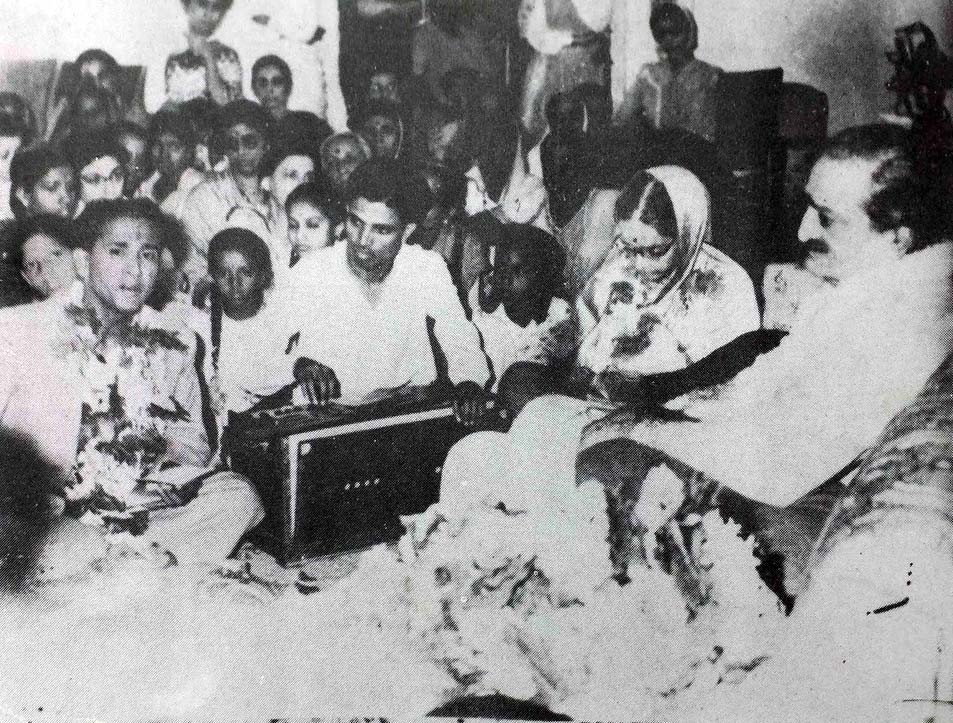 Madhusudhan married Subhadra on 14 May 1959 in the presence of Baba at Guruprasad Pune and lived a happily married life. On the occasion of their wedding Baba presented the couple with a "Shawl" which was given to Meher Baba by his Perfect Master Shri Upasni Maharaj. No one should ever seek such a perfect wedding gift as Madhusudhan received from Meher Baba. After a long and happy married life Madhusudhan's wife Subhadra had passed away recently.
Madhusudhan was very well known in Meher Baba centers for his immortal voice and wonderful songs which he composed for Meher Baba. In 2009 the Avatar Meher Baba Pune Center Published a Book containing around 300 songs composed by Madhudhusudhan which is available at Avatar Meher Baba Pune Center 441/1 Somwar Peth, Behind KEM Hospital, Pune 411011 Tel.: 020-26127846
[Article based on information about Madhusudhan published in Avatar Meher Baba Pune Center's recently published Book "Sampoorna Meher Geet Dhara"]
---
---
1950 [Refr Lord Meher]
Having finished his mast work in Bombay, Baba and his companions returned to Mahabaleshwar on Wednesday, 6 December 1950……..
The Thade family was especially drawn to Baba, and bhajan singing was held weekly at their residence.
Madhusudan, a superb singer, was a regular member and had started composing and singing bhajans about Baba. Subhadra Bundellu was also a fine singer, and the Thade family would join them in accompaniment. Three brothers — Laxmikant, Kishan and Narendra Thade — their parents and others such as Bapusaheb Shinde, Laxman Kamble, Rangole, Bade, Narayan and Krishna Bundellu, and a young man, Pratap Ahir were part of the bhajan group. The group was directed by Gadekar and his wife Gunatai; and their children, Digambar and Nalini, also sang. The Poona bhajan group hoped to sing bhajans before Baba one day, like Rustom Kaka and his wife Silla Kaku of Ahmednagar, who used to sing on special occasions in Meherabad and Meherazad.
On his return to Mahabaleshwar, Baba asked for a photograph of each member of the Poona bhajan group. Pointing to Madhusudan's and Narendra Thade's pictures, Baba remarked, "I will keep these two with me for some days."
Baba invited the entire Poona bhajan group to Mahabaleshwar to perform on Mehera's birthday that year. A week before this program, Khak Saheb handed Thade a song he had written, saying, "If you get a chance, the group might sing this song before Baba." A few days later, on 23 December 1950, Khak Saheb passed away in Poona at the age of 64.
Khak Saheb had been with Meher Baba since the early days of Manzil-e-Meem, where he and Asar Saheb had written Upasni Maharaj's biography in Urdu. Khak had stayed with Baba for long periods in Toka, Bangalore and Meherabad. Although because of his age he had not been able to join Baba on the New Life, he held fast to him until the last. From Meherabad, he had gone to live with his family in Poona.
When Ghani read the song Khak Saheb had written, he too gave the group a song to sing before Baba. The Poona group attended Khak's funeral and then left for Mahabaleshwar the next day, the 24th. They met Baba that evening, and each in the group sang individually for him in a small room.
Mehera's birthday was celebrated in Mahabaleshwar on Christmas Day, Wednesday, 25 December 1950. Kitty and Rano were also invited to attend this program and thus spent their Christmas holiday with Baba.
Madhusudan and members of the bhajan mandali sang devotional songs that day, and then the Song of the New Life. On hearing the latter, Baba commented: "To live up to this New Life song is the success I am seeking in the role of being the humblest and lowest of beings, full of weaknesses and defects [shortcomings]. Whatever you sing now will be addressed to the Old Life Meher Baba and not to me, as I can't accept it in this New Life".
"But you may sing bhajans with all your heart, full of love and faith."
Baba continued to listen to bhajans and ghazals for some time, and Padri took many photographs of Baba's expressions while listening to the music. The women companions were listening behind a curtain in another room. Baba was in such a good mood, he even accompanied the group by playing the dholak (drum) and finger cymbals.
Gadekar wanted to tell Baba about Khak Saheb's recent death, but because of the New Life restrictions against mentioning any such Old Life topic, he could not do so. But he hit upon a stratagem by telling Madhusudan to sing the particular ghazal to Baba that Khak had written before he passed away.
Madhusudan and the group continued to sing, and at one point sang the particular ghazal of Khak Saheb's that Gadekar had requested. Hearing just two lines, Baba stopped Madhusudan and became quiet for some moments. He looked as if he were somewhere else, far away. As Baba sat absolutely still with a pensive expression, everything in the world seemed to have stopped for the moment.
After a few moments, Baba rubbed his face and eyes, and gestured, "He [meaning Khak] has come to me." Although Baba had not mentioned Khak Saheb by name, the Poona group knew whom he meant. Then Madhusudan and the group resumed their singing, and sung the entire ghazal. Baba seemed to be in a serious mood as he listened.
"Who has composed this ghazal?" Baba asked.
Gadekar replied, "Khak Saheb."
"When did he write it?"
"Just a few days before he died," Gadekar replied solemnly. This was the news he wished to convey to Baba.
Lord Meher Online Edition Page 2958-9-60
---
[Madhusudhans letter to Pankhraj regarding Baba programme on the occasion of Centenary of Sassoon Hospital Pune where Meher Baba was born – 1968.]
---
Late Madhusudan's Address
"Dhruvapad" Vastunagar. B-2, Survey No: 567
Market Yard, Bibwevadi PUNE – 411037
For Madhusudhan's Songs and Books Contact:
Avatar Meher Baba Pune center 441/1 Somwar Peth, Behind KEM Hospital, Pune 411011 Tel.: 020-26127846
Explanation of Shawl:
Shawls are a long piece of warm cloth which are wrapped around upper body in order to keep one warm. This is also gifted as a symbol of respect.)
---
[Meher Baba Aarti EP Record produced by The Gramophone Company of India for Avatar Meher Baba Shrirangpatnam Center by Shri. Rentala Suryanarayana Murthy of Nizamabad. He volunteered this project in 1961 or 1963 with Baba's permission. Madhududhan and Poona Center Bhajan Mandali sing "Jahan Kalpana" Aarti composed by Madhusudhan. It is recorded in 2 parts reflecting two sides of the one single record with a short silent interval between 1st and the 2nd part. This was the original Hindi aarti of Baba, later Bhau Kalchuri wrote another beautiful Aarti Aadi Sachaytana". Download-MP3 | Mirror Download-MP3 ]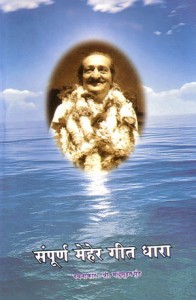 ---
TAGS: | MADHUSUDAN MADHUSUDHAN PUND SUBHADRA MADHUSUDAN MEHER BABA SONGS SINGER MADHUSUDAN |