Meherabad was originally an ashram established by Meher Baba near Arangaon Village, India in 1923 about 9 kilometres south of Ahmednagar. It is now the site of Meher Baba's samadhi (tomb-shrine) as well as facilities and accommodations for pilgrims. A large number of buildings mostly associated with the earlier decades of Baba's work, the graves of disciples, and a range of pilgrim accommodation and charitable establishments are also there. Many Baba lovers work or live in the vicinity. Read the History of Meherabad ..

HISTORY OF MEHERABAD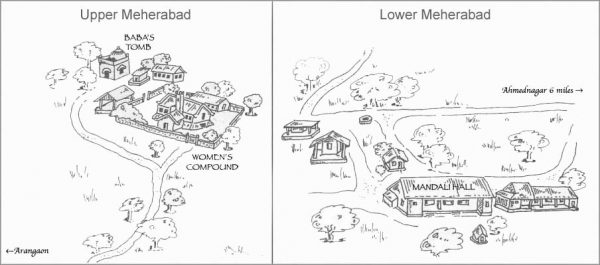 Arangaon, (which means Forest Village) began as a walled town in the 16th century, but by the end of the 19th century most of the trees had been harvested for timber and fuel. By World War I, the area was dry and barren. Some of the old architecture is still standing, such as the shrine of the 17th century Hindu yogi, Buaji Bua. He is said to have entered his tomb, which is just outside the Vithoba temple, while he was still alive.
During World War I, the property that is now Meherabad was a British army camp, leased from an Arangaon farmer. By 1921, Kaikhushru S. and Gulmai Irani, the parents of Rustom and Adi had purchased this property. There were only four structures left on the property from the army camp: a bungalow with earthen walls that was used as a mess quarters, a brick bathroom building, a Post Office with a generous shaded verandah, and a large ground level water tank on top of the hill across the railway line.