The Master's Prayer "O Parvardigar" (by Meher Baba) sung by Pete Townshed with a montage of film clips from Meher Baba's life. The film has rare footages from Meher Baba life and is much enjoyable to view with the Singing of the Prayer in the background by Pete Townshed . .
Video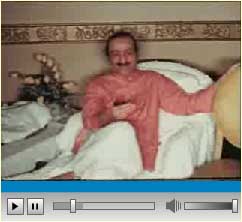 Meher Baba wrote the prayer at Dehradun in August 1953 and made it public on September 13, 1953. Near the end of January, 1968. Meher Baba always wanted his followers to recite the O Parvardigar Prayer and the Prayer of Repentance each day. The importance of the Prayers becomes special as Meher Baba Himself participated in the Prayers during their Recital by the Mandali at Meherazad Mandali Hall.
Beautiful 12 minutes film of Meher Baba edited to a soundtrack of The Master's Prayer, put to music and performed by Pete Townshend. (You may view the film on the home page of Meher Baba UK Website. Just scroll down the home page to find the film icon to play online)
View the Film on Meher Baba UK wesite.
Quick References :
Report Error
Kindly feel Free to Report any Errors or omissions :
(Please send us the WebPage URL for quick action)
For any valuable suggestions please use the Feedback form :
Suggest us
Please send us your valuable Suggestions to update our experience :
For any other Contact information please visit :
Disclaimer
Please Read Disclaimer and Terms of Use (TOU) :


For more information on Meher Baba Music, Meher Baba Books and online Magazines, Films and Videos on Meher Baba. Photographs and Images and various Avatar MeherBaba Centers, Meher Publications or Meherabad and Meherazad, Baba's Mandali, Perfect Masters, Spiritual Saints and Sadgurus of India or TRUSTMEHER please : Click Here