Paintings of Marla Faith. The website has a section on Meher Baba art paintings, and the Artist has exhibited her work at the Center in Myrtle Beach. For more information or customized paintings on Meher Baba you can contact the Artist through the website.
About Marla Faith
Marla Faith lives in Nashville TN, where she has been making and teaching art for a long while. She is a Chicago native with a BFA from the School of the Art Institute of Chicago, and an MS in Museum Leadership from Bank Street College in NYC. Her work has been exhibited nationally, especially in Nashville.
words to live by
Ms Faith believes in the power of beauty and love to transform us and our world. Her aim is to be a conduit of divine light through her art. Art has been her spiritual path as well as her psychological mirror. She strives for authenticity in each work, and sees herself as a narrative colorist.
Unique, one of a kind, uplifting family heirlooms
Art has energy and can be healing to absorb. Standing in front of original art, what the artist put into it reaches out to touch you. This does not happen with a poster. Feel the vibration of original art in your own home.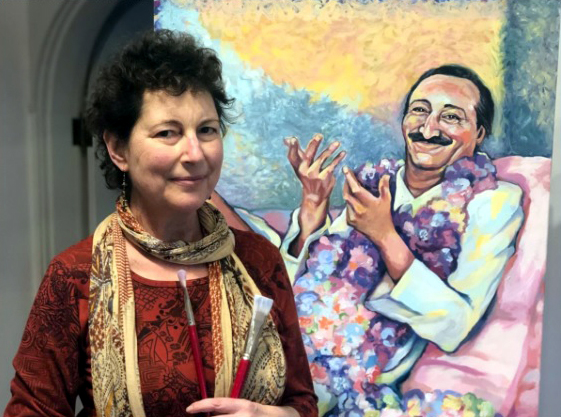 You can contact the Artists from her website Feedback page
[Source: Artist's website]
Meher Baba Paintings by Marla Faith