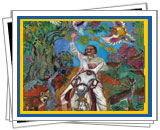 Paintings of Laurie Blum are wonderful and natural. She is using vibrant colors and depicts the old memories from Meher Baba's life with great skill .. Her Paintings are available as Print and also as Cards .. I aspire to make the heavens rain down on me and to bring forth from within me the inner world into the outer world. I seek to create a vibrational order of music and emotion revealed through colour, line and form. — Laurie Blum

Profile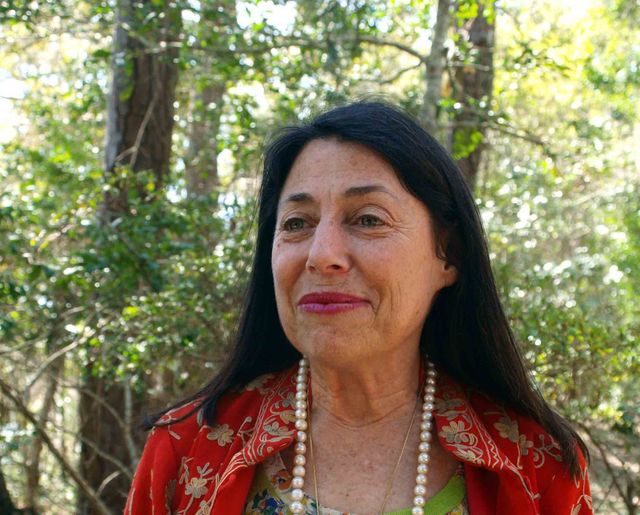 Laurie Blum is an artist who paints in a style all her own. Her works have been exhibited in the United States, Iran, and India, and the Shiraz Cultural Institute in Iran has compared her color, style and subject matter to that of the renowned Shiraz School of Persian Miniature Painting Era. Laurie has painted all of her life, and during 2003-5, she has focused on paintings in Iran that capture the country's natural beauty. Her painting medium is gouache on paper.
Laurie is presently illustrating her own original adaptation of Farid ud-Din 'Attar's "Conference of the Birds." Her version is called: "Language of the Birds – It Is All The Mirror Of God."
Laurie has long sought the opportunity to paint in Iran, and in 2003, she was given permission to paint in many of the country's most beautiful locations. Recent works have centered around symbols of Persian poetry including the Sarv Naz, Chanar Trees, Nightingales, Rose Gardens, Orange blossoms and the Ku (mountains). Laurie believes Shiraz to be the most beautiful place on Earth, and her hope is to exhibit her paintings of Iran in order to educate as many people as possible about the truly sublime beauty of this country.
Laurie was born in New York City in 1953, and she honed her craft at the High School of Art & Design in New York, Philadelphia College of Art, New York Studio School of Painting, Drawing and Sculpture, and Laney College of California State University.
Laurie was given the precious honor by the Shiraz Cultural Institute to be the first painter to exhibit her work at the Tomb Shrine of Hafez in Shiraz, Iran in December 2004-5. In 2005 the works were exhibited in Meherabad, India, Broadway Gallery in New York City and Myrtle Beach, South Carolina. She has also been invited to exhibit at Sa'adabad (the Shah's Palace Art Museum in Teheran) and in other provinces of Iran and again at Hafez Tomb in Shiraz. In 2006 the paintings were exhibited in Washington, DC, Boston, Chicago and Los Angeles. In July 2007, the Permanent Mission of the Islamic Republic of Iran to the United Nations sponsored her exhibit at the Secretariat Lobby of The United Nations. October 29 – November 19, 2007, Laurie exhibited fifty-two paintings in the Grand Gallery of the National Arts Club in New York City. Her latest exhibition was at the AIC (American –Iranian Council) Symposium and Norouz Celebration at the Senate Hart Building, Capitol Hill, March 2009. She was also featured on PBS/Frontline/Tehran Bureau, March 2010, with her work: Conference of the Birds. Recently, June 2011, Voice of America Persian News Network (PNN) made a documentary about her work; both PBS and PNN stories are accessible on the News link. The Voice of America documentary is also on Utube and Vimeo in Farsi and English.
[Source: Artist's website]