SHALIGRAM SHARMA JI OF HAMIRPUR
Born in the village of Magarpur (District Jhansi, India), on 14 January 1928, Shaligram had a disturbed childhood. He lost his mother when he four years old. His father, a landlord, did not pay loving attention to Shaligram. He remained love starved and developed an aversion to the world. He aspired to become a monk and seek God. Shaligram reflects that by planting this desire to seek God, Meher Baba was silently drawing him closer.
At the age of eleven years, Shaligram, with one of his friends named Maithili Sharan, secretly left his home for pilgrimage to Badrinath Temple situated high up in the Himalayas. He carried a rosary and a copy of Bhagavad Gita. However, on the way, Maithili felt frightened having been spotted by an acquaintance and left Shaligram. Shaligram did not stop and continued his journey. In the train, a blind sadhu took special interest in Shaligram. On learning that Shaligram has secretly left his home and is on a pilgrimage to Badrinath, the sadhu persuaded Shaligram to return, saying that pilgrim places are full of immoral practices and are no longer abodes of God. The sadhu pointed out that God Himself seeks His lovers and one day Shaligram would succeed in finding Him. Convinced, Shaligram returned and resumed his normal life.
Shaligram resumed his studies and graduated from Kanpur. He then got trained for the job of a public prosecutor in the police department. He was posted at Allahabad, a holy city infused with a spiritual environment. Again he got tormented by the thought that he is drifting away from his main objective, the search of God. Shaligram took a vow of a totally frugal diet and abstained from eating any thing else. He resolved that he would not resume the normal diet until he finds God! After about a year he was transferred to Hamirpur, a poorly developed small town surrounded from three sides by rivers. Though reluctant initially, Shaligram accepted the new posting and arrived at Hamirpur with his bag and baggage ferried across the river. Soon Shaligram, because of his monk-like habits and honesty, impressed one Hari Shankar Sharma, his senior. It was through Hari Shankar that Shaligram heard the name of Meher Baba for the first time.
Hari Shankar talked about a police officer, Vishnu Shrivastava, and mentioned that Shrivastava's wife is a devotee of somebody known as Meher Baba. The moment Hari Shankar mentioned about Meher Baba, Shaligram had a vision of Baba in a pink coat and sadra. He saw Baba smilingly poised on a sofa chair. At that time, Shaligram could not make out whom he actually saw in that vision. But later, when one of Shaligram's acquaintance, who was working in Narayan Press of Hamirpur and from where the Hindi magazine Meher Pukar was published by Keshav Narayan Nigam, took Shaligram to the place of his work. While grazing through Meher Pukar, Shaligram saw a photograph of Meher Baba exactly similar to the vision seen earlier. Shaligram's acquaintance was a Baba lover who firmly believed in the Godhood of Baba. He gave Baba's declarations "Highest of the High" and "Meher Baba's Call" to Shaligram for reading. Shaligram was deeply impressed by the divine authority of Meher Baba and was moved by His declarations.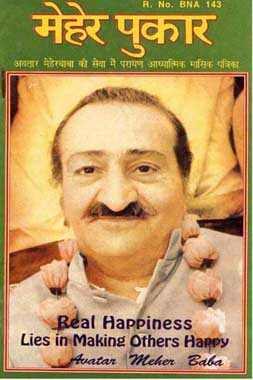 At Narayan Press (now named as Meher Pukar Press) Shaligram met Parameshwari Dayal Nigam "Pukar." Pukar told many Baba stories to Shaligram. In one such story, Pukar talked about a sahavas program at Meherabad, where Baba lovers expressed their desire to wash Baba's feet. Baba said that washing His feet by everybody would be time consuming and troublesome. He said that He would wash His own feet on everybody's behalf. Pukar narrated how Baba washed the feet of lepers and the poor. He also talked about the life and spiritual experiences of Baba's disciple called "Pleader." Pukar also gave the book God Speaks to Shaligram for reading. God Speaks, with its crystal-clear presentation of highly complex spiritual themes supported by beautiful charts, convinced Sharma that only God could create a book like that. Shaligram accepted Meher Baba as the Avatar of the Age. This was the year 1960. Hamirpur was already charged and activated by Beloved Baba and the tradition of holding annual Meher Prem Mela and Sahavas had just been started. Shaligram came into contact with many Baba lovers, including Dr. G. S. N. Moorty, Kishan Singh, Todi Singh, Prakashwati, Madhusudan, and others.
Shaligram's heart was now aflame with Meher Baba's Love and craved whole-heartedly to have His darshan. At Panwari sahavas, Madhusudan, moved by the Meher love of Shaligram, informed him about a meeting scheduled on 4th of December and specially convened by Baba for some selected lovers. Madhusudan instructed Shaligram to reach Sarosh Talkies [movie theater] in Ahmednagar well in time and assured him of Baba's darshan. However, Jal, Baba's brother, objected and discouraged Shaligram for rushing to Ahmednagar, mentioning that the meeting is exclusively for some special invitees. Shaligram felt dejected and crestfallen. Later, moved by Shaligram's mental state, Jal conceded and invited him for that very meeting, assuring that he would try his best to arrange Baba's darshan. That meeting, however, was cancelled by Baba. Jal later informed Shaligram that he would be meeting Baba on 25th of December and intends to show Shaligram's photograph to Baba. Shaligram promptly sent his photograph and a letter for Baba.
On 31st of December, Jal wrote to Shaligram: "I have been to Baba for a few hours and in spite of restrictions during Baba's seclusion, I could place your photograph and the letter before Him. Baba looked at your photograph very lovingly and said, "I know everything about him and I will surely call him one day." Jal's letter filled Shaligram with immense happiness. All this made him much more restless to have a darshan of his Beloved Meher Baba.
This was the time when Bhopal center was celebrating Baba's birthday commencing programs from 24th of February 1961 and invited Keshav Narayan Nigam as a special guest. Keshav was permitted to bring a companion. Shaligram accompanied Keshav and both arrived at Bhopal on 24th of February. From Bhopal, Shaligram sent a birthday telegram to Beloved Baba stating: "By your mercy I surrender myself to you as birthday greeting." Overflowing with Baba's love, Shaligram started giving discourses on Baba's life and teachings at various places.
It was the month of April when Pukar gave the happy news about Baba's circular informing about a darshan program at Poona. Shaligram started for Poona on 12th of May, reaching there on 14th. At Poona Bhau informed them that a special Baba darshan program is fixed on that very day at 4 p.m. Shaligram vividly recollects: As he entered the room, he saw Baba seated on a chair wearing a sadra. His divinely radiant face was full of peace and love. Light similar to moonlight was radiating from Him. When Pukar introduced Shaligram to Baba, Baba asked, "Has he started taking regular diet or he is still on frugal food?" Pukar said, "He has started taking regular diet. He was reluctant but after receiving a telegram from Adi Sr., he relented." Baba then asked Shaligram "What made him stop taking regular food?" and without waiting for the answer, He instructed everybody to assemble in the adjacent hall. In the hall Baba came wearing a pink coat and sat on a sofa. This was exactly how Shaligram saw Baba in his vision.
In the hall, Shaligram was introduced again as the public prosecutor from Hamirpur. Baba asked the name of Shaligram's village. He was told that it is Magarpur. Baba then asked Shaligram, "What do you want?" Shaligram said, "I want to be true to my surrender to Baba." Baba was pleased and said, "Nobody has said that before. Now the conditions are such that it is I who has to surrender before the world." Somehow Shaligram took this as his rejection and felt terribly upset and dejected. Eruch, who was interpreting Baba, then explained: "Baba is saying that surrender demands total emptiness within. If you beat a solid block of wood, no musical sound can be produced. But if the same block is made empty within by giving it the shape of a drum, it becomes a wonderful musical instrument. A rock has no desire. In the same way, in surrender one has to free himself from his own desires. Dust, trampled or reverently smeared on the head, remains unaffected. In the same way surrender means becoming the dust. Why Shaligram is seeking total surrender to me? This will make him useless for the world." Then Baba asked Ramjoo to recite a couplet in Persian. That he did and Baba explained its meaning: "Since the time I have surrendered myself to my Beloved, I have become totally useless for the world."
On this Shaligram said, "Baba, please, make me useless for the world and give me the strength to surrender to Your will." Baba then enquired about Shaligram's family members — kids and wife — and asked, "Do they have faith in Me? What will happen to them? Have you thought about that?" Shaligram said, "I leave everything to You, Baba." Baba then said, "After surrender to the will of God, nothing remains to be achieved." Then Baba instructed Pukar to ask Shaligram to sing a song of his choice. Shaligram poured out his heart, saying, "Baba, give me the strength to surrender totally to Your will and take refuge in You." Suddenly Baba became supremely radiant and, raising His hand, said, "God has heard you and has granted your wish." At that time the entire hall was filled with brilliant light and a deafening explosion was heard by Shaligram [described in talks by Shaligram as a clap of thunder]. Shaligram was in profound ecstasy and Baba too was extremely happy. Baba gave Shaligram five chocolates as prasad. But soon Shaligram discovered that one of the chocolates is missing. Later he found that missing chocolate in his bed. He ate all five.
Next day, on 15th, Baba hugged Shaligram lovingly and rubbed His cheek on Shaligram's cheek. Shaligram felt as if high-voltage electric current has passed through his entire body. His joy of ecstasy was increased manifold. Baba instructed Shaligram, "Be truthful in your worldly duties, see Baba in all beings and work without any worry." Shaligram asked, "Baba, how to see you in all beings?" Baba said, "Do not worry about that. I will take care of that at the appropriate time."
This is how Shaligram Sharma came to Meher Baba. Avatar Meher Baba ki Jai!
[love-remembrances website.]